With time, as the technology is moving ahead, whether in the field of pharmaceuticals, medical, food and cooking industry, industrial or Health care industries, something in each field has changed in order to cope up with the technology. Bottom pouring sets (BP sets) are shapes made from different refractory grog, plastic fire clays, and non plastic clays. The fractions of these raw materials are pugged and are mixed for complete homogeneous mixing.
The mixture obtained is then pressed in high capacity presses to give it desired shapes and sizes. These sets are generally made in two qualities, 30% alumina and 40% alumina. If required, these sets can also be made in high alumina grades. The sizes available for different qualities of Bottom Pouring Sets are Duplex 3 x 4,  Duplex 3.5 x 4.5, Duplex 4 x 5, Duplex 5 x 6 and H Plate. The pressed shapes are later fired in tunnel kiln at very high temperatures of nearly 1300 C.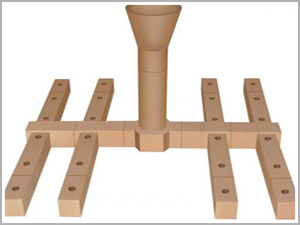 Characteristics and Special Features :
Varied size and shapes
Minimizes the deposits of carbon
Increased lifespan of bricks
Withstands high temperatures based on the quality
Better resistance to thermal shocks
Perfect in appearance
Withstands temperatures up to 1450 degrees.
These sets are completely resistant to high level abrasion
Ravani Ceramics are fastest growing manufacturers and exporters in the country with superior quality services and products and best performing bottom pouring sets. The bottom pouring sets are passed through different processes.
General Specifications :
| | | |
| --- | --- | --- |
| Details | 30% Alumina | 40% Alumina |
| Safe working temperature | 1400 C | 1450 C |
| Bulk Density | 2Gms/cc | 2Gms/cc |
| Alkalies | Trace | Trace |
| P.C.E (Orton cone) | 30 | 32 |
| RUL | 1300 ta0 C min. | 1400 ta0 C min. |
| Apartment Porosity | 30% max | 30% max. |
We aim at consistently maintaining high quality standards and an environment of Total quality management where all the 3 R's i.e. Right quality, right service and right price is fulfilled. These bottom pouring sets are hollow in shapes and are conforming to Is:6 OR IS:8 and are processed as per the specifications mentioned in IS: 1387-1967.