Fire bricks are special kind of bricks that possess the capacity to withstand high temperatures. They're high heat resistant and can be in different shapes. The main usage of fire bricks are for lining of the furnaces, bake ovens, and pits. These bricks contains mainly aluminum oxide and silicon dioxide. Since they are manufactured in very high temperatures, they have the capacity to withstand high temperatures.
Different Variety of Fire Bricks Available :
The different types of bricks are used for different purposes. These products were usually made of clay and were used for different purposes. Following is the variety:
Medium Duty
High duty
Insulation bricks
Clay bricks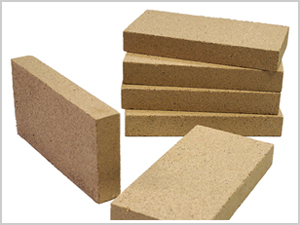 They've got innumerable uses. They're considered to be the most versatile and indispensable product because they are used in wide variety of fields. The pizza ovens are also made out of refractory bricks.
Our products are highly appreciated in the market because of our maintenance, our cleaning and constant replacement services. In order to avoid constant replacements or damage, the soot from the bricks needs to be removed very often. Also, our guidance brochure instructs proper use of detergents to clean the plates of the oven thoroughly. Our years of experience in the field have made us known for being premium refractory fire brick manufacturers and exporters India.
In order to maintain the durability, these bricks need to be cleaned properly. The main part is using the right bricks so that it'll seldom require repairs and maintenance. We manufacture industrial fire bricks using highly advanced machineries and techniques. These machines are highly efficient to bare and fit different sizes of bricks.
Technical Specifications :
Particulars
RC IS6
RC SPECIAL
RC 40
RC 45
RC 40S
RC 45S
RC 42D
RC 50
RC 55
RC 60
RC 70
Al2O3(Min)
30
34
40
45
40
45
42
50
55
60
70
Fe2O3(Max)
2.5
2.5
2.8
3.0
2.0
2.0
1.5
3.0
3.5
3.5
3.5
PCE(Min)
29
30
32
32
33
33
34
33
33
35
36
Apparent
Porosity (%)
Max
26
25
24
24
22
21
18
24
24
24
23
CCS (kg/cm²)
200
250
300
350
300
350
500
400
400
450
550
RUL °C (Max)
1300
1350
1400
1400
1420
1440
1470
1400
1410
1450
1460

Bulk

Density(gm/cc)

2.0
2.05
2.15
2.20
2.20
2.25
2.30
2.30
2.45
2.50
2.65
PLC (%) Max
±1.0 at
1300 °C/2
hrs
±1.0 at
1350 °
C/2 hrs
±1.0 at
1400 °
C/2 hrs
±1.0 at
1400 °C/2
hrs
±0.75 at
1450 °
C/2 hrs
±0.8 at
1450 °
C/2 hrs
±0.5 at
1450 °
C/2 hrs
±1.0 at
1450 °
C/2 hrs
±1.5 at
1450 °
C/2 hrs
±2.0 at
1450 °C/2
hrs
±2.5 at
1500 °C/2
hrs
Application
Area
For
Chimney
flue, Boiler
& Sugar
Industry
For
Chimney
flue,
Boiler,Cu
pola &
Steel
foundry
For
Cement
preheater
, cyclone,
silicate
furnace &
other
moderate
heat duty
applicatio
ns
For
Cement
preheater,
cyclone,
silicate
furnace &
other
moderate
heat duty
applicatio
ns
Special
purpose
Low iron
high duty
bricks for
Cement
Preheater
&
Cyclone
Special
purpose
Low iron
high duty
bricks for
Cement
Preheate
r &
Cyclone,
Chemical
plant &
Blast
furnace
Special
purpose
Low iron
high duty
bricks for
Cement
Preheate
r &
Cyclone,
Chemical
plant &
Sulphur
furnace
Low
porosity
dense
bricks for
Abode
backing
furnace &
Blast
furnace
For
cement
kiln
preheatin
g zone &
Reheatin
g furnace
wall.
Calcinatio
n zone of
Cement
rotary kiln
& Copper
melting
furnace
Reheating
furnace
wall,
Burning
zone of
cement
rotary kiln &
Ladle
backup